You`d like to rent the Wild At Heart for your show?
this is included:
- PA + Lights + sound engineer
- the fee for GEMA (ASCAP,BMI) + KSK (social security for musicians)
- door security
If you want you can also order the cash desk service and catering.
If you are interested please contact us in time at:
E-Mail: info@wildatheartberlin.de
Telefon: 0049 - 30 - 61074701 (office)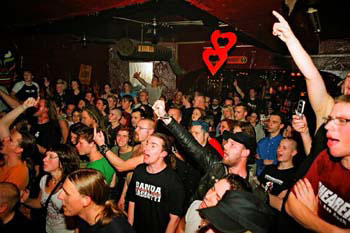 PA - Equipment:
2x HK Audio Linear Pro LP14 12"/2" Tops
2x HK Audio Linear Pro LP18 2x15" Subs
2x HK Audio Linear Pro 12/2 monitors as sidefills
mixing desk Behringer 3248 16 channel desk
2x 4 ch. Compressor Behringer
Front and Monitor EQ`s Yamaha
Digitech Multieffect
Mikrophones by Sennheiser, Beyer, Shure....

Stage Size:
wide: 4 Meter
deep : 3 Meter